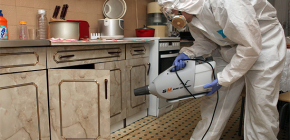 Treatment of premises from insects by the method of cold mist has proven itself, and today it is often used by workers of disinsection services. In particular, this technology is often much more effective against bedbugs than simply spraying insecticides from household sprayers (sprays). So what is the so-called cold fog, how and from what it is created, and how ordinary people respond to the effectiveness of disinsection in this way - all of this we will continue with you and talk more ...
The history of the neighborhood of a man with bed bugs has been counting for many centuries, and during this time many different ways of exterminating these insects have been invented. However, in the modern age many previously considered effective methods have to be revised.
Indeed, if earlier they often resorted to conspiracies and prayers from bed bugs, today it is unlikely that anyone will try to destroy the parasites in this way. Even such means of destruction of bedbugs in the house, like wormwood or kerosene, which seem to be more progressive, are rapidly becoming a thing of the past.
In the first place in the destruction of bedbugs out chemical agents. Chemical insecticides of the most various structures are more and more actively applied not only to fight bugs, but also with a huge number of other harmful insects. And the reason for this - the high efficiency of chemicals.
However, it would seem, well, have developed an effective chemical means of destroying bed bugs - why develop so many of them. Why are there so many items on the market?
The problem is that the effectiveness of the drug does not always come to the fore when dealing with bedbugs.Such indicators as lack of odor, safety for humans and domestic animals, the impact rate on bedbugs, the duration of preventive action and, of course, the price - all this plays an important role for each specific consumer, faced with a problem, for example, self-destruction of bedbugs in an apartment.
Moreover, the bugs today are somewhat different than before. In the constant struggle for survival, they adapt to modern poisons. The surviving individuals, the most resistant to the action of the poison, also give unresponsive offspring. As a result, a kind of "arms race" between humans and bedbugs continues, and never stopped.
All this is interesting, you say, however, how to destroy bed bugs after all? Well, we can make you happy: there are a lot of effective options and means for the destruction of bedbugs, and on the pages of this section of the site you can read more about them and choose the best one for your case.