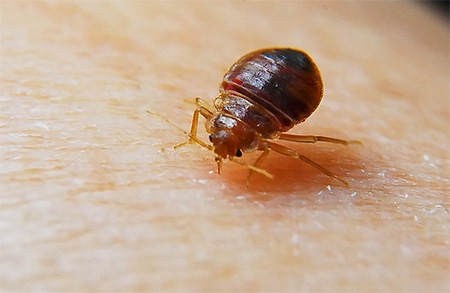 Bites of bed bugs are characterized by the fact that in most cases they are confused with the bites of other insects, various skin rashes and even injuries, but they begin to think about the real reason at the very least.
At the same time, for a specialist entomologist, the bug of a bug is quite easily recognizable, since it has a pronounced specificity.
And it is useful for simple residents of city apartments and country houses to learn about this specificity, so that at the first bites they can immediately recognize the parasites and take measures to combat them as soon as possible. We hope that the photo in this article will help the reader.
On a note

There are cases when the bites of bed bugs could not be recognized and even dermatologists confused with chickenpox and allergies. Still, today with such lesions in hospitals are rarely treated. Therefore, to know what the bites of bed bugs look like, it is desirable for everyone.
What do bedbug bites look like?
Bedbug bites look like mosquitoes, but are a bit more painful and more clearly defined. From the side, they look like rounded swellings of red color with a pronounced knob in the middle (see photo):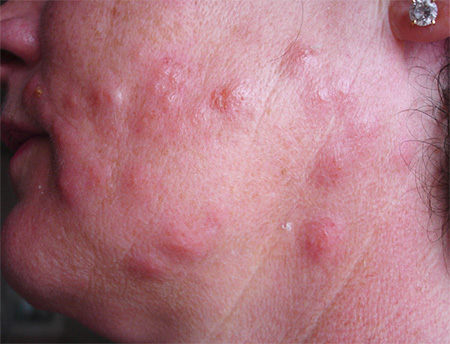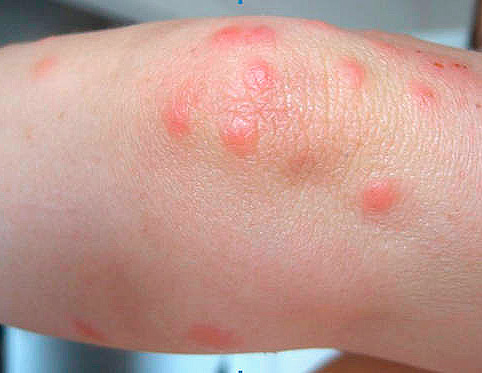 The main distinguishing feature of bedbug bites is their grouping and multiplicity. It is characteristic that during feeding each insect makes several punctures of the skin, sucking a drop of blood from each hole.
The bites of one bed bug are located along the same line - no other insect bites like that. The number of bites themselves is also characteristic - one parasite makes 3-5 skin punctures at a distance of 3-4 centimeters from one another.
In the photo below, characteristic bite paths are clearly visible: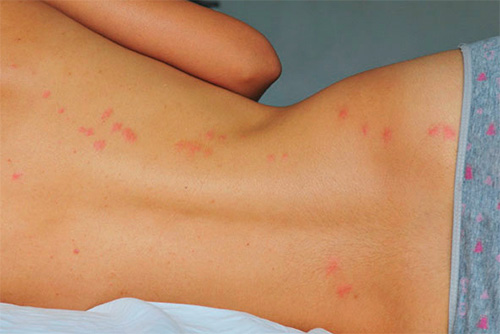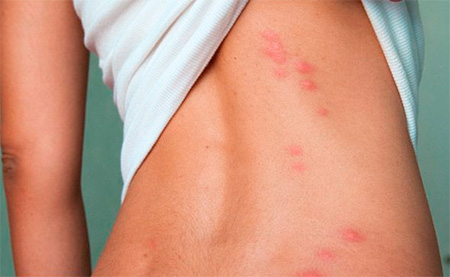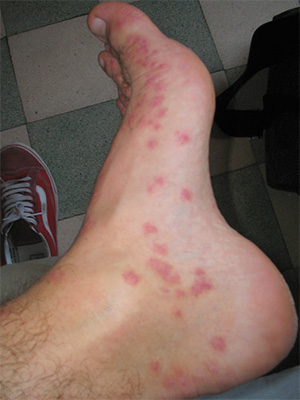 Bedbugs feed, though not organized, but collectively. Therefore, in most cases on the human body in the morning you can find a large number of red swellings, one next to the other. Specific bugs "paths" are well viewed here.
It is also useful to see the article. What do bed bugs eat and how long can they live without blood?.
On a note

There are several dozen species of bed bugs, but they all bite about the same, and the differences between them are not noticeable without a microscope. And no matter where humans are bitten by these insects, their bites always look the same.
But the sensations of a person from bites are already more subjective and unequal. As a rule, adult men are less sensitive to such bites, and sometimes they do not notice them at all (and do not know what they look like). And the reddenings themselves in the morning are already faint.
Often, this is one of the reasons for the infection of an apartment house with bugs - parasites start up in an apartment where a person simply doesn't pay attention to them, and from this apartment they crawl unhindered to their neighbors (for more information about the causes of bedbugs in a house here).
In general, bugs prefer to bite women and children. They have thinner skin, blood vessels are closer to it, body odor is not so pronounced, which can clog the smell of blood.
Below are a few photos. bitten by bedbugs children: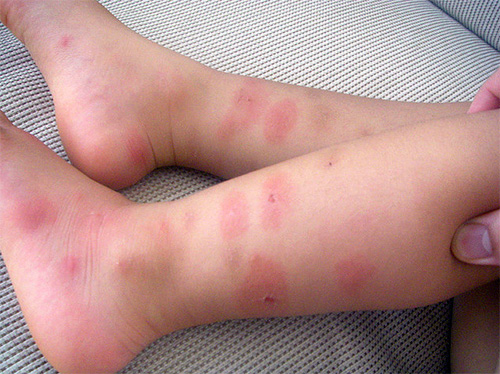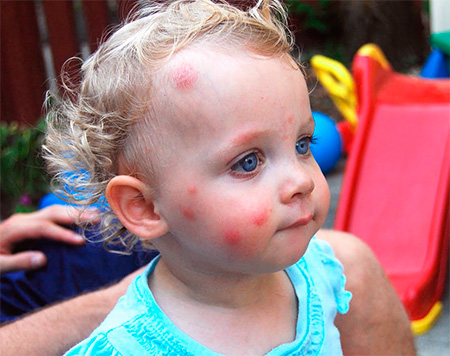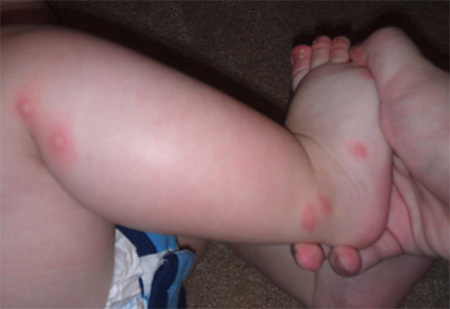 There is a prejudice among the people that bugs bite people very selectively. This is not true, but bedbugs are a really less attractive source of food.
Feedback

"My poor child has been suffering for six months with these terrible bites. I could not even suspect that these creatures could appear in the house. They knew all the dermatologists in the city by name, and only one after the examination firmly said that these were insect bites.

I still thought, they say, what kind of nonsense, what insects in the house in the winter. But when I started to poison the apartment Dichlorvos, these bugs climbed out of all the cracks. Itself then two weeks the patient was, the child coughed, all the same, a poison. But I am so ashamed in front of him that I gave these parasites so much time to bite him ... "

Oksana, Belgorod-Dniester
An adult bug, when piercing the skin and the wall of a blood vessel, begins to introduce saliva into the tissues and blood containing natural anesthetics. As a result, during feeding the victim's bite is usually not felt by the victim, and itching appears only after resorption of saliva components, 15-20 minutes after the bite. Insect by that time has time to safely retreat from the place of feeding.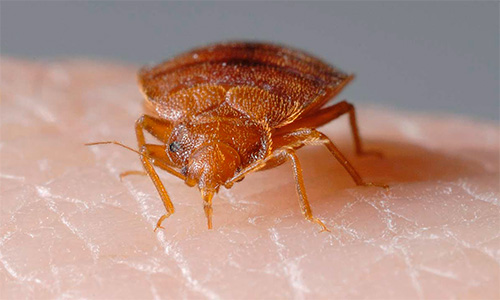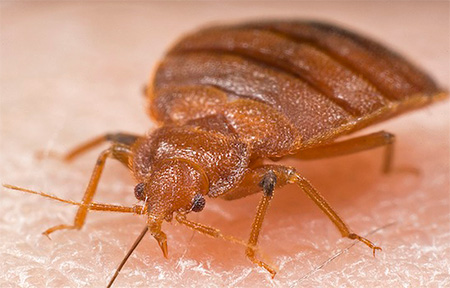 It is interesting

Youngest bedbugs larvae (nymphs) do not know how to inject anesthetics at the bite site, and therefore very sensitive people can sense their bite even while feeding the insect.However, due to the small size of the nymph, the very piercing of the skin and the walls of the blood vessel is quite painless.
The photo below shows the larva drinking blood:
If the bites are not scratched and do not handle anything, after a few hours they darken, redness and swelling subside, and by the end of the day only small dots remain in the puncture sites.
However, if the apartment is badly infected, the next night the bites will appear again, and when their number becomes significant during the night, it is unlikely that you will not notice them on your body.
As a rule, bedbugs bite exposed skin, and therefore bites are usually placed on the neck, arms, legs, chin. On the back and sides, bites appear more often in people who sleep without pajamas.
However, even in spite of detailed information on how a bedbug bite looks like, it is easy to confuse it with the bites of other blood-sucking or just stinging insects. Especially when there are not too many such bites. But you can figure out how to distinguish between the bites of the main parasites and to distinguish them from the bites of bed bugs.
How to distinguish bedbug bites from the bites of other insects?
The way a bed bug bites can distinguish their bites from the bites of other insects.
From mosquito bites and fleas, bedbug bites differ in their number, grouping and presence on those parts of the body that were covered at night with a blanket. In addition, bedbug bites are more painful and have a pronounced red color.
Compared with tick bites, bedbugs punctures, on the contrary, are smaller and softer. In addition, tick bites are most often seen while feeding arthropods. The tick literally immerses its head in the wound.
From bites of small wasps and bees, bedbug bites are less painful. Bedbug bites just itch, but the bites of stinging insects hurt.
The bugs bites can be distinguished from infectious rashes and allergies due to the presence of a small, but distinct to the naked eye point-hole through which the insect was fed. So a meticulous and professional dermatologist is unlikely to confuse bites with rashes.
In addition, it should be understood that bed bugs bite only at night and almost exclusively on the premises. If the bites appeared during the day or after sleeping on a rug on the beach, then most likely they were caused by other insects.
What are dangerous bedbug bites?
No matter how hard the scientists tried, they failed to prove that the bugs with bites are able to tolerate pathogens dangerous for humans. And this is despite the fact that in the body of the bugs themselves, and especially in their litter, sometimes very dangerous viruses are detected.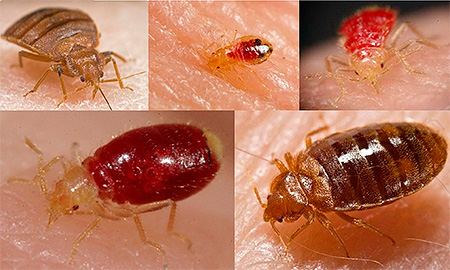 Apparently, bedbugs over many millions of years of evolution have developed mechanisms for protecting their victims. It is beneficial for them that people (their food) are healthy.
However, a person may have a reaction to bedbug bites:
Allergic rash, itching and pain. Especially sensitive people may develop angioedema, fever, and in isolated cases - loss of consciousness and anaphylactic shock.
On a note

Allergic reaction to bedbug bites In varying degrees, has been identified for more than 80% of people on the planet.
Involuntary scratching of itchy sores can cause skin damage, suppuration and inflammation.
Iron-deficiency anemia. It appears extremely rarely, for example, when a large number of bedbugs regularly attack a small child.
The main consequence of bedbug bites is sleep disturbance, the lack of normal rest and frequent trauma to the psyche: for many people, shock is the feelingthat in a dream insects crawl over their bodies and drink their blood.
For more information about the danger of bedbug bites, see a separate article: The bugs can be dangerous to humans.
A little about the bites of other species of bugs
Among bed bugs, bedding is not the only ones that can bite a person. In addition to night parasites in bed, the following can cause painful bites. species of bedbugs:
water scorpions - bugs that look like real scorpions, but live in ponds, lakes and lowland rivers. The bite of a water scorpion is very painful, but it is an exclusively protective reaction of an insect. These bugs do not feed on human blood.
Smooth - too water bugs, popularly called "water wasps." Their bites are very painful, but they are also produced only in self-defense.
Predatory bugs, mainly distributed in the tropics and characterized by bright color and large size. Bites of certain species can be fatal to humans. These bugs feed on other insects and mollusks. Among them are transitional forms that feed on human blood. For example…
Triatom bugs are the infamous kissing bugs (the skin's reaction to their bite looks like a strong kiss), carriers of Chagas disease. This disease kills more people every year in the tropics of South America than from malaria or any other disease caused by protozoa.
However, all these types of bedbugs, if they bite, then only in their natural habitat. In the same houses, and even more so - in bed, only the bedbug attacks the person.
Treatment for bedbugs
In most cases, the treatment of bedbug bites is not required. At home, these bites do not threaten anything, and with a quick and effective fight against bedbugs will not be repeated.
However, if you have a severe allergic reaction to bites, you may need to combat allergic effects.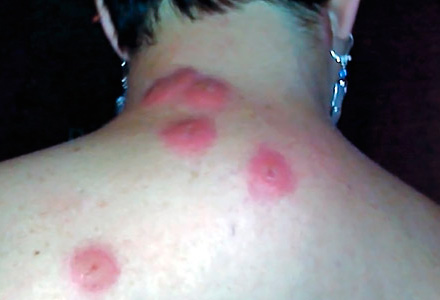 Particularly relevant is the treatment of bites for travelers, often spending the night in low-cost boarding houses and hotels, which may be bloodsuckers. Sometimes the situation with the impossibility of hygiene on the day after the bites can provoke inflammation and suppuration.
Feedback

"On the last day in Sulawesi, we were already settled in a cheap guesthouse in the port, because the normal guesthouses were already closed.Terrible room, stuffed with bedbugs. We began to bite before we fell asleep. We left the keys on the bed, took the things and went to sleep on the beach ... "

Pasha, Moscow
In all cases, bedbug bites first need to be washed with warm water and soap, and then smeared with alcohol.
Any well behaved emollients and soothing ointments: Afloderm, Menovazin, propolis-based gels. Menovazin, by the way, will help in case of allergies.
In tropical countries, pharmacies should buy any ointment for allergies or insect bites, they give a good result.
But the best protection against bedbug bites is to kill the insects themselves. For this today there are many tools, but you still need to be able to choose the best preparation among all this variety.
For most cases, a rather powerful choice for bedbugs is the Delta Zone, which is odorless and safe to use. It is also important to take into account that if the bugs come into the room from their neighbors, then it is advisable to perform joint pest control, and at the same time.
And so that the problem with bedbugs is not delayed for several years, you should also have an idea about effective preventive measures re-emergence of bedbugs in the apartment.
What the bug bites look like and how to distinguish them from the bites of other insect parasites
5 rules for choosing the service for the destruction of bedbugs