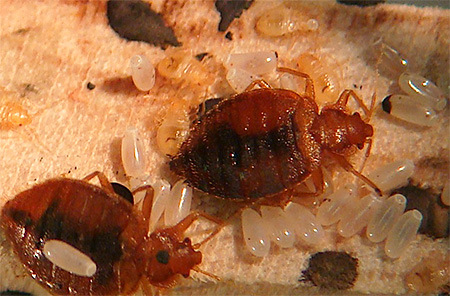 Anyone who has ever woken up in the mornings with a chain of red blisters from the bites of night parasites could not help but wonder where the bugs come from. It seems that the apartment is clean and well-kept, and is located in the center of the city, and there are no animals in it, but the insects that bite and keep you awake do not plan and disappear. Here it is necessary to figure out where bed bugs come from and what are the most common erroneous opinions about infecting their apartment with the population.
All the way the appearance of bedbugs in the house
The main and leading source of infection of the room with bedbugs are neighboring rooms. This is especially true for apartments in old, Soviet high-rise buildings and apartment buildings under construction in the countryside. It does not even raise questions about what makes bed bugs: everyone knows that they come from their neighbors.
The bugs themselves are not very mobile and not very fast insects.They do not know how to fly, they run much slower than cockroaches, but they can go without food for quite a long time, and therefore they are capable of long journeys.
In suburban areas, bugs by odor find human habitation, and move into it from chicken coops and rabbitks, where they parasitize on the skin of small animals. However, parasitism on other mammals and birds for bedbugs is rather an exception, and more often they move to a new room from another house or apartment, in which they feed on the blood of other people.
In apartment buildings, bedbugs spread very quickly. They move freely through the vents, pierced channels for electrical wiring and just cracks in the entrance doors. Thanks to their very flat body, they are able to creep even where no gaps or openings seem to be visible.
Often, bugs fall into a new room from a distance, brought here by the owners of a house or apartment, or their guests. For example:
With suitcases, backpacks and things brought from the trip. Especially - from traveling to warm countries.Tropical Egypt, Thailand, Indonesia and India are a haven for the heat-loving bed bugs. In this case, the owners themselves must remember where they come from. bed bugs in the apartment: the place of their last journey before the appearance of bugs, most likely, was the historical homeland of blood-sucking parasites. At the same time, it is enough to bring a single adult female into the house, which will lay eggs here and give rise to a new population. The bug may hide or accidentally fall into the folds of things, in a suitcase, bags, shoes, and, having moved through several time zones, it will be in new favorable conditions for itself. This way of transferring bedbugs for backpackers who frequently change hotels is especially relevant. It is enough for one parasite from some "klopovnik" to get lost in the folds of a backpack, and with a high probability in a couple of weeks he will move to a typical Russian apartment and start colonizing new territories.
With purchased furniture. This is one of the most frequent ways of infecting bedbugs new apartments and houses. Especially if the furniture bought is not new. In furniture factories or in stores, bugs have nothing to eat, and therefore new products are almost certainly free from them.But the furniture of the infected houses and apartments - the main breeding ground for bedbugs. For biological reasons, these insects prefer to settle in the beds and sofas on which their future victims sleep, and therefore such a sofa, even vacuum-cleaned, can bring a lot of torment to the new owners after the purchase.
On clothes. Although bedbugs prefer to bite open skin, they often hide in their clothes taken off before sleep or simply do not have time to run away if a person gets up early and puts on his clothes quickly. Thus, bedbugs can be brought to their home by visiting the house they have infected or receiving guests from such a house. A case of a bad joke can be played here: there are known cases of bedbugs in expensive clothing stores on unworn specimens. Bugs fall on them either from a person living in the Klopovnik, or from neighboring rooms.
With the technique. Bedbugs prefer to sit out during the daytime in warm places. Therefore, laptops, tablets, scanners, microwaves and any other equipment are very attractive to them. Especially often they find tiny larvae for which even the openings of the speakers are open.
On animals. This is an extremely rare way to carry bedbugs, but it has a place to be.Bed bugs do not parasitize on cats and dogs because of the thick coat of the latter and dense skin. However, bats and birds can be their carriers, and for any reason such carrier appeared in the house can leave the parasite here.
But often the bugs in the apartment do not move and are not transferred. In many cases, they live here for decades, not immediately giving out their presence.
Bedbugs like homeowners
Once having appeared in a dwelling, bugs inhabit such places in it, from which even professional pest control teams can hardly drive them away. Therefore, there are frequent situations when in the fall an apartment or house is treated with special chemicals, but by chance individuals left on summer on balconies and cold loggias hibernate and survive the persecution of their relatives in warm rooms. New owners, entering the apartment, check its cleanliness, listen to stories about all the cleaning activities and live in comfort for the first six months. And in the spring with increasing air temperature dormant bedbugs wake up and confidently relieve residents of a restful sleep.
Often, bugs in an apartment fall into pseudoanabiosis in the absence of food. This is typical for housing, in which more than a few months no one lives.Such a room can be perfectly clean at first glance, but insects and their larvae doze off in the crevices of cabinets and sofas in it, in the crevices of the cabinets and sofas, when they smell the human body.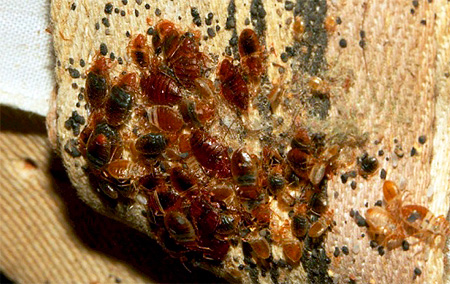 In addition, if the bugs in the house or apartment have already lived, the operation of their harassment with a certain probability will be ineffective. If only because they probably spread to neighboring apartments and will quickly return here after chemical treatment. Therefore, housing, which has ever been held baiting bedbugsmay well turn into a klopovnik in the future.
Bugs conquerors, or how bugs penetrate the house from the neighbors
But still the most common way to get bedbugs into the house is to migrate them from neighboring rooms. It is impossible to say here what the bugs are made of: they simply spread, attracted by the presence of a person. It is impossible to isolate an apartment from them: bugs will penetrate through sockets, through external walls through windows, through ventilation, through doors.
It is important that the bugs move alone to the new premises, and therefore with regular wet cleaning and a small total amount of furniture, it is not difficult to notice such pioneers.In addition, the bugs are slow-moving: an adult insect overcomes a meter of distance in a minute by force, and therefore they cannot simply come to visit at night. And the first settlers are easy to destroy when they wander around the apartment.
Very often, the bugs en masse from the neighbors, conducting pest control, reminding these cockroaches. If the pest control is professional and effective, then they will not have time to go outside the neighbour's apartment. But if everything is done in the old-fashioned way, with dichlorvos and tansy brooms, then most likely a hungry crowd of refugees will literally be transferred to a clean, hitherto flat in a few days.
Where in the house bugs appear in the first place and how to prevent their appearance
It is important to remember that the sanitary condition of housing does not affect its attractiveness for bedbugs. Parasites are equally willing to inhabit the crap barracks, and luxury apartments. Only in the latter, because of the smaller amount of furniture and its better condition, there are significantly fewer places for their normal stay, and even the first settlers die under slippers and brooms, not having time to multiply. And figuring out what makes the bugs in the house, about the cleanliness of the room should be remembered in the least.
The main gates of the house or apartment for bedbugs are ventilation vents, sockets and pipes for water and heating, entrance doors and windows. And the most frequent sources of new insects are clothes, purchased furniture, used, travel backpacks and bags. After penetrating the premises, insects hide in those rooms where people sleep, under beds, in wardrobes, under carpets, behind baseboards, in crevices of furniture and mattresses.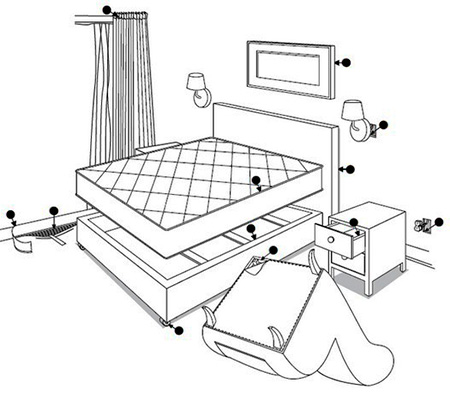 In order to block all paths of bedbugs entering a flat with a certain degree of reliability, it is necessary:
purchase a clothes dryer and, after visiting suspicious premises or hotels, process things in it at a temperature of more than 50 ° C. Bedbugs die already at 48 ° C, and this treatment will destroy them guaranteed.
After long journeys with overnight stays in the Klopovniki, you can pack things into hermetic vacuum bags and take them to dry cleaning. This must be done with backpacks.
In the summer, you should use a mosquito net on the windows. It is well protected from adult bugs, and small larvae that can penetrate through the cells are less mobile and less likely to move along the outer walls.
Conduct additional insulation sockets, smearing the glass inserted into the hole in the concrete with silicone.
In the vents, spread out a selection of bundles of wormwood, tansy or lavender and change them every two to three weeks. You can regularly treat these holes with vinegar or mothballs, but this may not please the other residents of the house. Such means and repel bugs with a pungent smell, and mask the smell of people living in the room.
But if in the apartment the bugs appeared in large quantities, they need to start fighting with completely different methods. Namely - to entrust the matter to professionals.
Where do bed bugs come from in the apartment
5 important rules for choosing a service for the destruction of insects