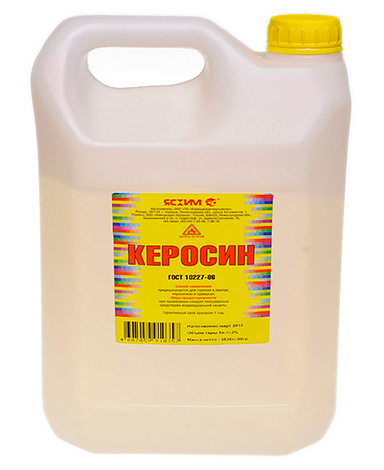 Despite its many flaws, kerosene is still one of the most popular folk remedies for lice. Many citizens, perhaps the majority, remember how in childhood their parents put them in a bath, smeared their hair with kerosene, put a bag on their head and forced them to hold it for half an hour, while their head itched unpleasantly, and the skin under their hair seemed to warm up.
Although nowadays such a method of removing parasites is outdated, you still have to give him credit - kerosene from lice and nits really helps, and therefore even today, with an abundance of more delicate and more effective means on the market, it is still used. However, given the aggressiveness of kerosene and the many side effects of its use, it is necessary to know well how to properly lice them and what precautions should be taken.
But first, let's see why kerosene is effective. against lice. The reason lies in its complex effect on parasites:
kerosene poisons adult insects and larvae
it also weakens the attachment of nits to the hair
In addition, kerosene with its sharp odor scares lice.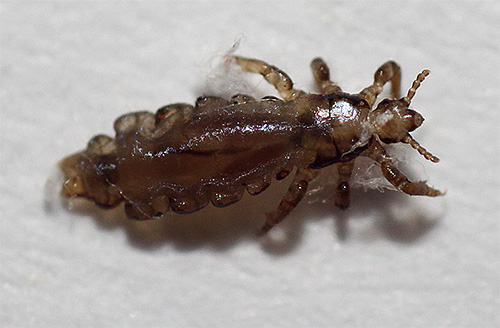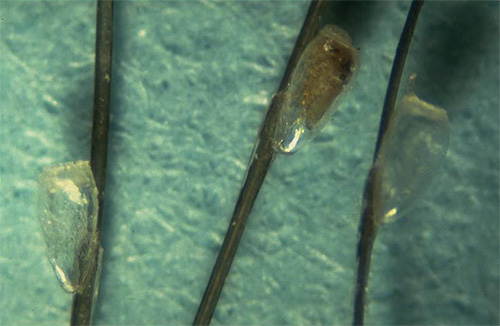 Unlike modern insecticides, which predominantly have a neuroparalytic effect on parasites, kerosene leads to rapid insect intoxication and suffocation. Well wetting the chitinous covers of lice, it is able to penetrate deep into the spiracles, blocking them and thereby blocking the access of oxygen.
However, the high ability of kerosene to penetrate fatty tissues can lead to a kind of skin burns and, in general, deterioration of the hair and hair follicles. That is why it is so important to understand well that improper removal of kerosene lice can be a real danger to a person, especially when it comes to a small child.
On a note

It is not correct to talk about "treatment with kerosene lice." The disease caused by lice, is called lice in the people, in the scientific community - pediculosis. It is his - pediculosis - and treated, including kerosene.
Removal of kerosene lice is effective against both normal, head lice, and against pubic and dress lice. However, the struggle with each type of parasite has its own characteristics, which we will consider below.
Does kerosene help from nits?
Practice shows that kerosene kills nits, but not nearly as reliably as adult lice. The point here is that the nits themselves are well protected by a dense shell, and its breathing proceeds much less intensively than the lice breathe themselves.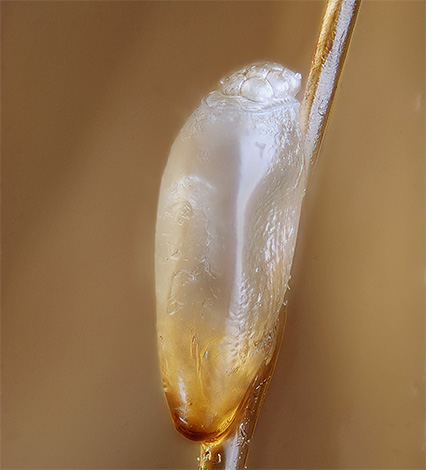 As a result, in order to destroy nits with kerosene, they need to be influenced by a substance of high concentration (pure kerosene), and for a long time (several hours). In this case, there is a great risk of a severe chemical burn with further flaking of the burned skin and hair loss.
Accordingly, for removal of kerosene nits in real conditions, a special method of step-by-step destruction is used. Knowing how to get rid of kerosene lice using this method, you can completely remove both the parasites and nits in just two or three procedures.
Feedback

"Medfox bought, I was terribly sprinkled from him.I tried vinegar - there were nits even after two times. I thought if it was possible to bring out lice with kerosene, everyone is just talking about it. I tried. It turned out that kerosene is much more effective than all expensive shampoos! Twice, at an interval of 8 days, I treated my head and forgot about this attack. Just remember, to use kerosene for lice, you need to properly follow the recipe. And then you can burn yourself together with lice and all your hair. "

Anna, Novorossiysk
How to properly remove kerosene lice
Before you remove kerosene lice, you must prepare the liquid itself for use. It is desirable for this to take lighting or technical kerosene. Avtotraktorny and aviation are less preferred because of the greater aggressiveness and the possible presence of extraneous additives.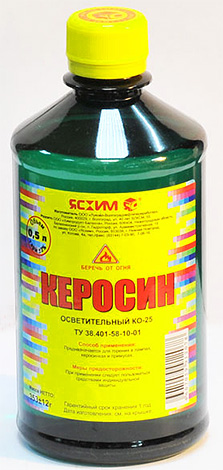 For a one-time treatment, a cup of kerosene is enough.
In the simplest case, kerosene is applied to the hair and scalp with a cotton swab. Hair should be dry. The entire hairy part of the head, eyebrows, neck are processed as thoroughly as possible; for men, the sideburns and beard are treated. When removing pubic lice, kerosene is applied to pubic hair, in the groin as a whole and in the area of ​​the anus.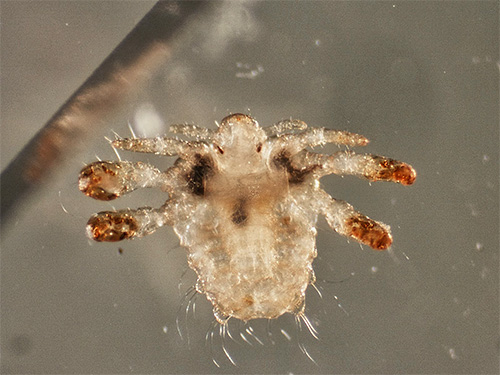 To reduce the harmful effects on the skin, you can also add a spoonful of kerosene to the shampoo, which then thoroughly lather wet hair - in this case, the treatment is, in fact, an emulsion of kerosene in a detergent. At pediculosis treatment in children, it is necessary to dilute kerosene either in the indicated way or in vegetable oil (see below).
There are several popular recipes based on diluted kerosene, which allows you to remove lice without risk of serious injury to the skin:
For two teaspoons of olive oil, one tablespoon of kerosene and a teaspoon of shampoo are taken. This combination significantly reduces the aggressive effect of kerosene on the hair and skin.
For three tablespoons of honey, take a teaspoon of kerosene, a teaspoon of shampoo and four tablespoons of hot water, mix everything up and apply to your head as soon as possible.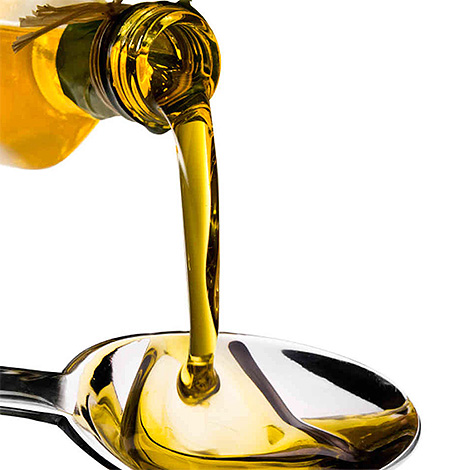 On a note

People of the "old school" often recommend that the first treatment of the head be sure to produce pure kerosene, and the second one - the control one - with a mixture of oils. However, you need to understand that this approach carries serious risks of burning the skin.
After applying kerosene, you should put a plastic bag on your hair and wrap a towel over the top.Keep kerosene lice on the head should be within 1.5-2 hours. With less exposure, it is possible to keep the lice alive.
After this period, the towel and bag are removed, and the head is washed several times with shampoo. Washing the hair with a weak solution of acetic acid is also effective - this additionally weakens the attachment of nits to the hair.
Children with their delicate skin, it is desirable to keep the kerosene no more than 1 hour. Three days after the first treatment, the hair is treated with a mixture of 50 grams of olive oil and 1 tsp of kerosene. The mixture also keeps on the head for about an hour, and then washed off with water with a small amount of vinegar or citric acid. Then the head is washed with shampoo.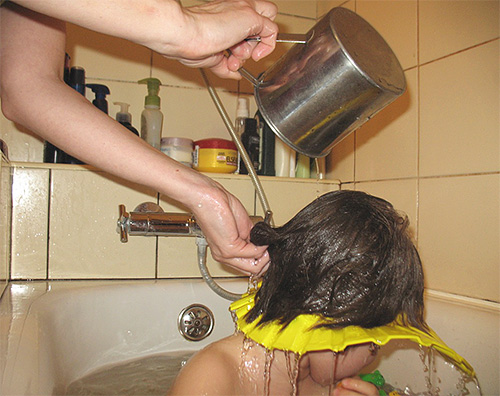 After another three days, you should repeat the treatment solution with oil or honey. With such a phased treatment, the skin on the child's head will not suffer, and the lice will die.
Feedback

"They tried to poison the lice with kerosene from the little one. It was something. The child yells, the stench is unbearable, this filth from the head immediately begins to spread. They were held for only half an hour, but the cry was as if Masha had been planted in a frying pan. Interestingly, the second time did not have to do anything - all the lice died out immediately. "

Inga, Tver
To remove body lice, contaminated clothing is soaked in water with a significant amount of kerosene — a liter of kerosene should be taken in a 10-liter basin of water — and held for half a day. After that, things are washed, dried and ironed.
Kerosene Precautions
The main danger from the use of kerosene is the risk of skin burns. When using pure kerosene, this risk increases, and therefore it is impossible to keep the substance on the head or another part of the body for more than two hours. In people with sensitive skin, damage can occur in half an hour.
On a note

You can check in advance the sensitivity of the skin to kerosene. To do this, it is enough to apply the substance to the bend of the elbow and hold it for half an hour without washing it off. If red spots or rashes appear at the site of application, it is better to refrain from removing louse with kerosene.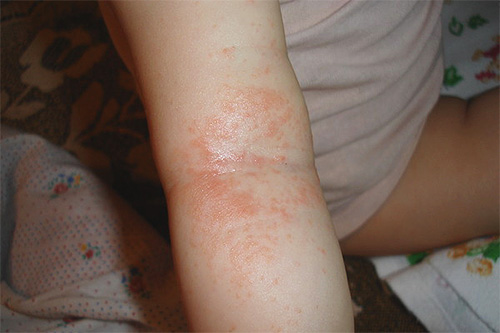 Kerosene also burns and weakens hair. Sometimes they may discolor. If the hair is often painted, it is not worth treating it with kerosene - it can become brittle and begin to crumble.
In any case, when removing lice and nits with kerosene, it should be avoided in contact with the nose and mucous membranes of the eyes and mouth.If this happens, rinse the mouth, eyes or nose with plenty of clean water.
You should also remember about the flammability of kerosene and not to work with it near open sources of flame.
Feedback

"Do not use kerosene! We treated our child once with the head, we were told that kerosene helps against lice. An hour later - a chemical burn of the scalp and pieces of exfoliating skin, and then a month of treatment by a dermatologist. So do not be stingy and take a normal lice shampoo. "

Alla, Kiev
Additional enhancement of the effect of kerosene
After treating the hair with kerosene, it is highly recommended to comb the hair with special lice combs. This will remove not yet dead, but weakened parasites, and part of the unglued from the nits.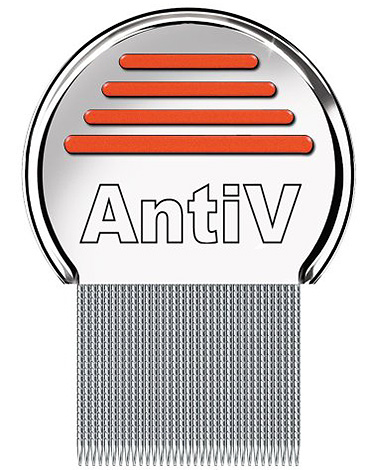 In children, with careful combing of the hair immediately after treatment and for the next two to three days, it is possible to completely remove the parasites from the head and not re-treat with kerosene.
If a child has a noticeable allergic reaction to kerosene, do not save and buy a reliable pediculicidal lice shampoo. These shampoos are more effective than kerosene and are almost always safer.
Also, do not forget (especially if you have no money and no kerosene) that the most effective way to get rid of lice is to shave your head bald. It is both simple and safe and reliable.
Severe burns in a child after removing kerosene with lice
How lice appear in a child and how to get rid of them correctly