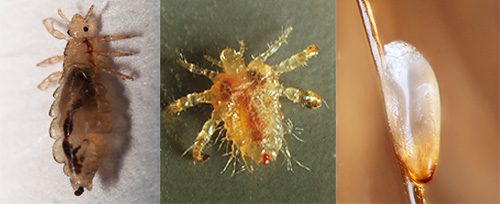 Lice are obligate external parasites of mammals. These insects have adapted to live in animal hair and feed exclusively on their blood, they cannot live outside the host's coat and specialize in only one species or only a few closely related species of animals.
For example, a human louse can only live on humans and some monkeys. Elephant head lice can only affect elephants, and hare only hares. Lice of one mammal species cannot infect other species.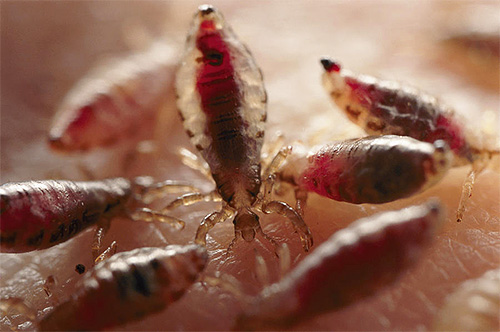 So, the cat eater is not able to parasitize a person, and human louse does not live on pets (Many, without knowing it, often seriously suspect whether their children have become infected from a cat or a dog). So far, scientists have not found lice only among representatives of the marsupial order.
It is interesting

Birds have their own peculiar group of insects, called lice.They are more diverse than the head lice itself, and it is believed that they cause generally less inconvenience to their hosts than the parasites of mammals. Lice, parasites on animals, in science are called lashes, and in addition to blood, some of them can feed on skin cells and secretions of the host glands.
Human louse for a short by evolutionary standards, human dwelling on the planet has managed to divide into two forms, which theoretically can turn into different species. One of these forms lives on the head and is called head lice, the other lives in clothes and is called clothes (or otherwise - clothes louse).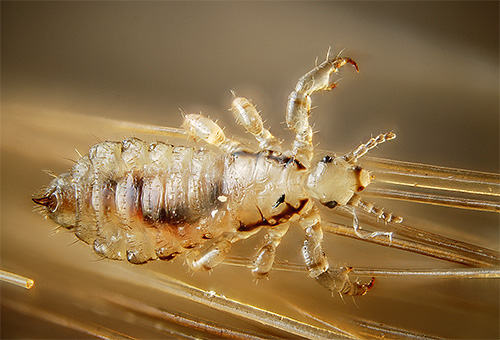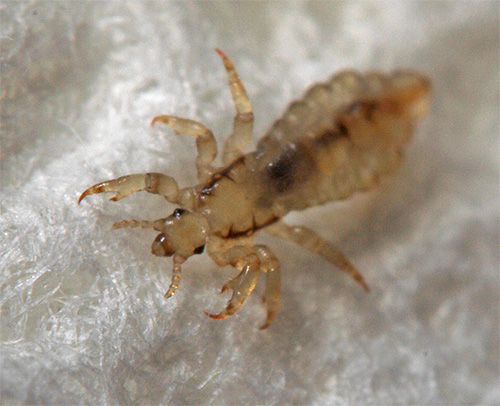 They can produce viable offspring, but due to the fact that in real conditions they practically do not meet together, do not mate and more and more separate.
In addition to these forms, man also parasitic pubic louse, which is significantly different from the head and body lice in size, lifestyle and its appearance.
What do lice look like?
Lice are fairly small insects. In the photo under a microscope, they can notice all the attributes inherent in their biological appearance - six legs, body segments, head and chest, antennae: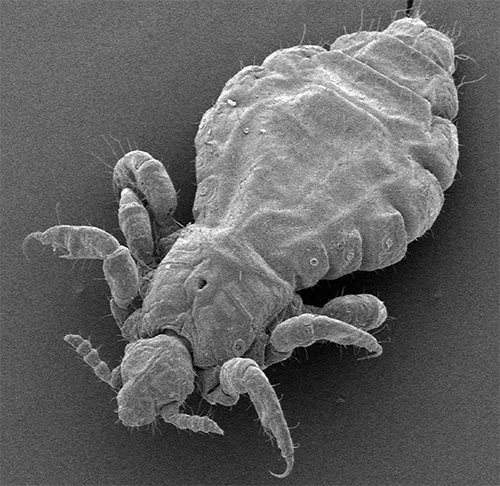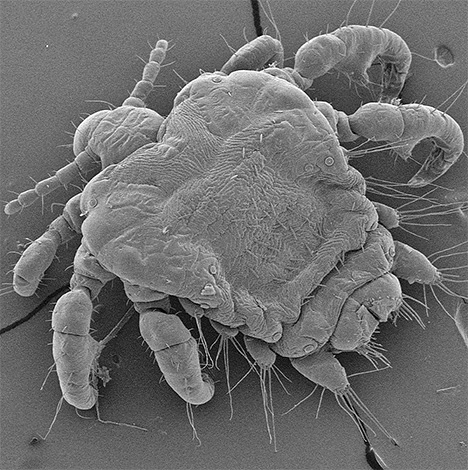 Below are some more photos of human lice.It is characteristic that at all stages of development they do not have wings, like their relatives, eaters: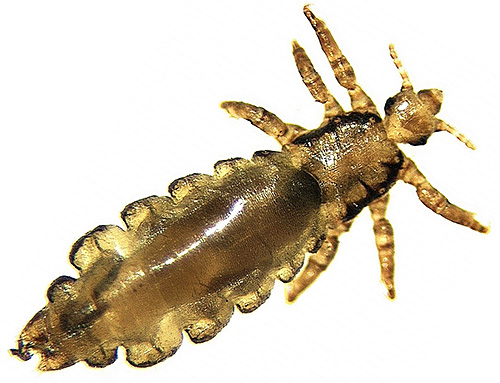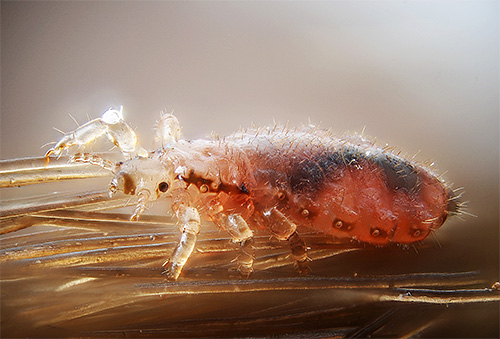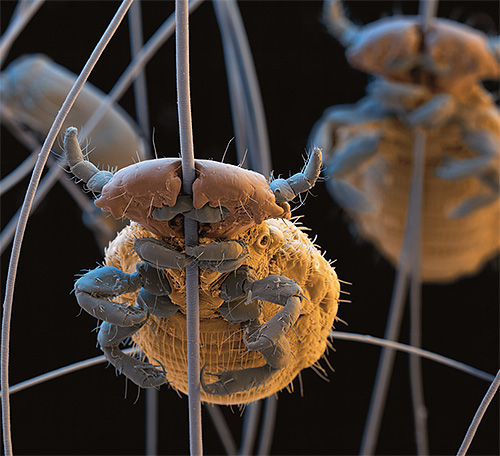 Without a microscope, lice look like tiny light gray insects. Body lice are a bit lighter and appear almost white. Pubic lice are the darkest, and their body is shortened, due to which they resemble small crabs.
Among the hair of parasites is quite difficult to identify. You can look at how lice look, for example, on a light fabric, on a palm, or on a finger.
On the picture - louse wardrobe on the finger: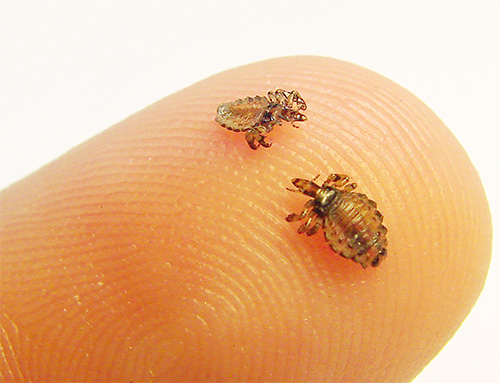 And in the following photo you can see how the lice look in the hair - their normal habitat: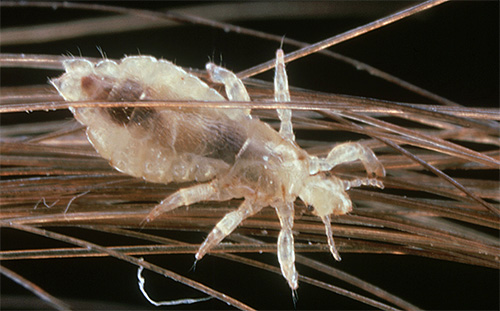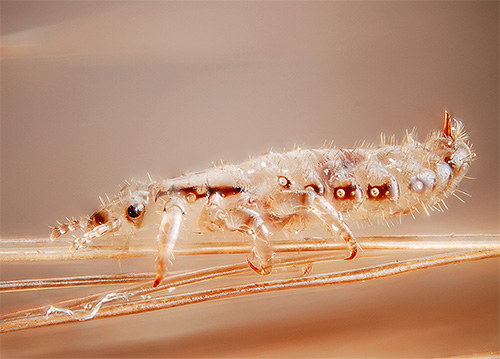 In size, the head louse reaches a maximum of 4 mm, usually about 2-3 mm, and the wardrobe is the same. Pubic louse - the smallest, has a body length of 1-2 mm. In the picture, pubic lice are well distinguished by quite massive, strong legs and a rounded body: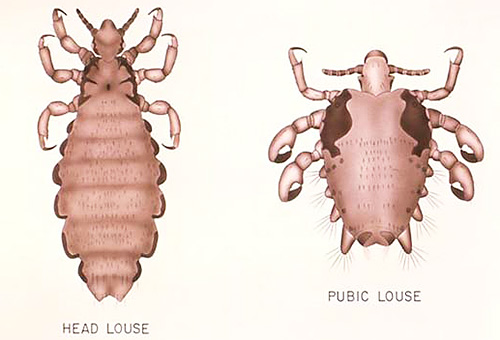 On a note

It will be quite difficult for a non-specialist to distinguish a louse from a licker without a microscope. However, you can always be sure: if the parasite is caught on a person, it is a human or pubic louse.
What is the difference between different types of lice?
Different types of lice can be distinguished from each other even without a microscope.
If the insect is light, almost white, then it is a clothes louse.The photo shows what a louse looks like on a uniform:
If the insects are darkish and their abdomen is very short (looks wide) - these are pubic lice. Photos of them on a white background and in the hair are presented below: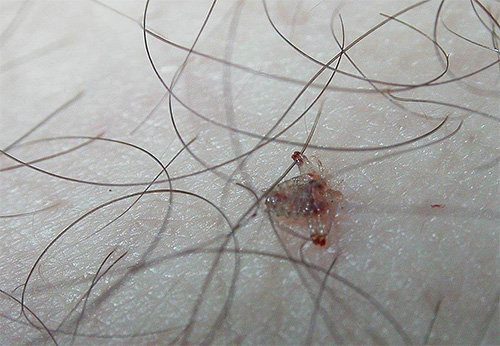 It is interesting

Pubic and head lice were very common in antiquity among people. The famous Roman emperor Sulla suffered from pubic lice. When describing the monstrous diseases with which he was sick of his depraved lifestyle, all his contemporaries certainly described thousands of parasites, which literally fell from him, and those who remained day and night from his body were taken off by slaves.
If the insect is dark in color and has a long belly, it belongs to typical head lice. In the photo below lice are clearly distinguishable in the hair: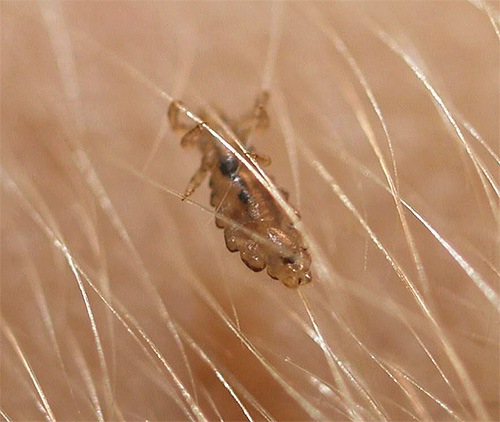 It is even easier to distinguish lice by the place on the body where they were found or caught. Lice in the hair on the head - only the head, pubic, in the groin and the anus, in the armpits and in exceptional cases - on the eyebrows - pubic. Parasites on clothes and hair on the chest are usually worn.
It is difficult to confuse lice with other parasites, as they look completely different. Bedbugs are much larger than lice and are not found on the body of a person during the day, and fleas are almost black and jump well.
But the main difference between all these parasites and ticks from lice is that they avoid the hairy parts of the body. Lice are in the hair and prefer to parasitize - their legs are ideally suited to be attached to the bundles of hair.
In the photo - lice on the hair: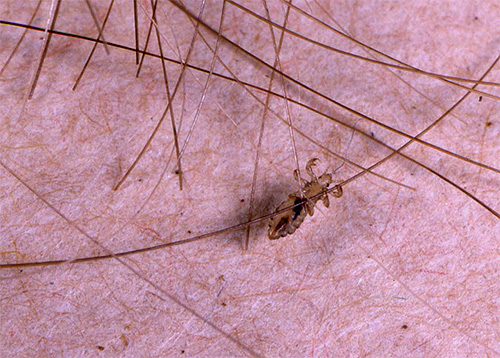 And in the following photo below you can see how the lice look on the folds of clothes: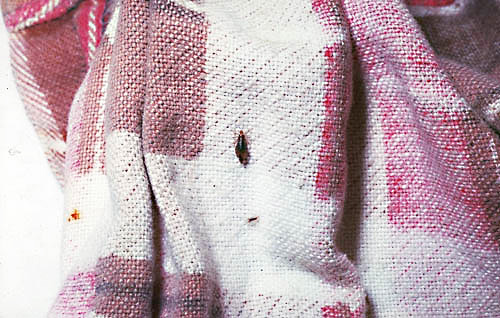 Reproduction and life cycle of lice
Lice are insects with an incomplete cycle of transformation. This means that their larvae that came out of eggs are very similar to adult insects, differing only in size and inability to reproduce.
In the pictures of lice, you can distinguish between larger adults - sexually mature parasites - and larvae: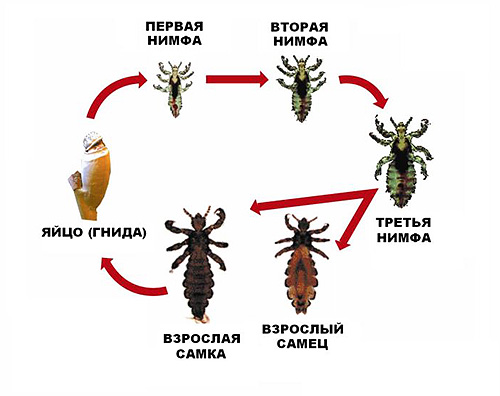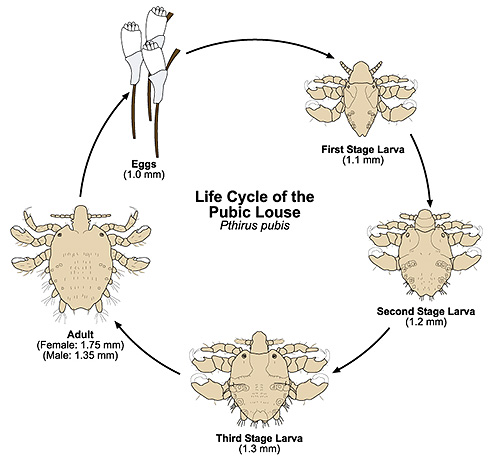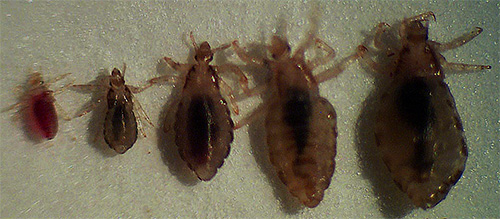 On a note

Insects with an incomplete transformation cycle also include cockroaches, crickets, grasshoppers, and bugs. And to full-conversion insects include, for example, butterflies, beetles, mosquitoes, flies, the worm-like larvae of which look completely different than adult individuals.

Lice larvae called nymphs, and adults - imago.
Lice eggs are called nits. They are immobile and, in most cases, cannot be transferred from person to person, as particularly cautious citizens think about it.
A special feature of nits is that at the exit from the female oviduct, the egg is covered with a thick layer of sticky secretion and immediately comes into contact with the hair, to which it sticks. The secret quickly hardens, and the nit turns out to be so firmly attached to the hair that it is very difficult to tear it off - it is easier to pull the hair out.
Lice and nits coexist side by side, but usually nits are more visible, since adult insects are more likely to sit on the skin at the base of the hair, and nits are located directly on the hair.
In the photos below you can see more what the nits look like and lice: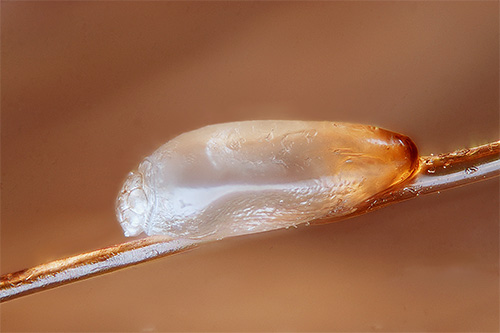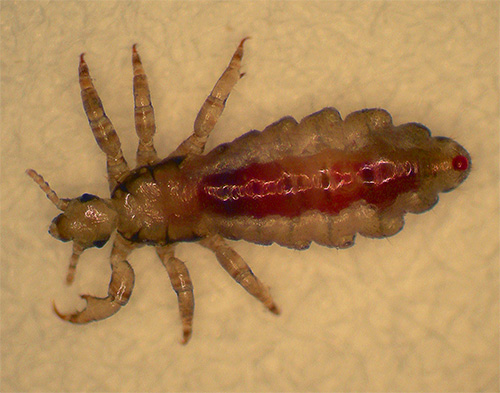 Lice multiply very quickly. Each female lays about 10 eggs daily, from which a larva leaves in a few days.
Then the larva grows and molts three times, which takes about 14-16 days. After the last molt, the nymph turns into an adult louse and almost immediately mates with a member of the opposite sex. The cycle time from egg to egg is approximately 18-22 days, in ideal conditions - 16 days.
When the temperature decreases, lice and nits develop much more slowly, and their reproduction cycle can stretch for a month or more. The optimal temperature for breeding lice is 32-33 ° C.
The photos below show lice and nits on the hair: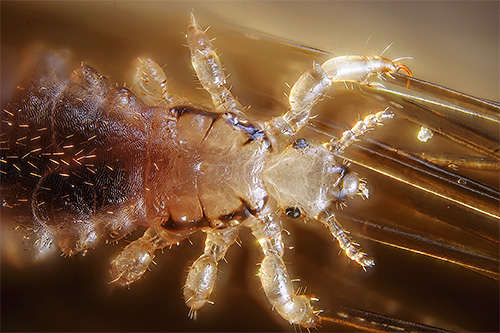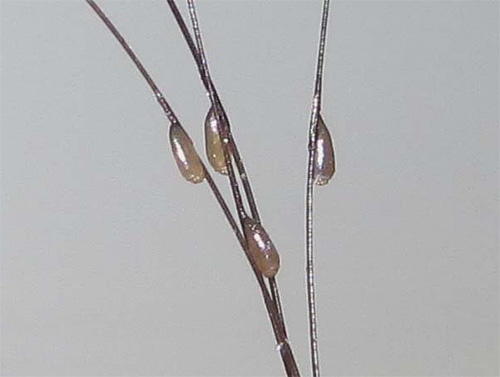 On a note

With a sufficient length of hair on the head, even in winter, the temperature near the skin on the head is almost not below 25 ° C, and therefore the lice on a person quietly multiply throughout the year.
How lice multiply is well demonstrated in the video below. It is good to see how adult lice, nits and larvae look at different stages of development:
About breeding lice, as well as some interesting details about their lives
Nits of different types of lice differ slightly from each other. In pubic, they look a little smaller, in ward clothes - larger and usually in the seams of clothing. Nits linen louses can be completely destroyed, for example, by boiling clothes.
Below is a photo of pubic lice and nits on the hair: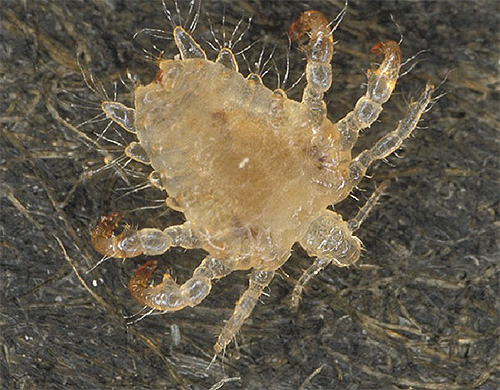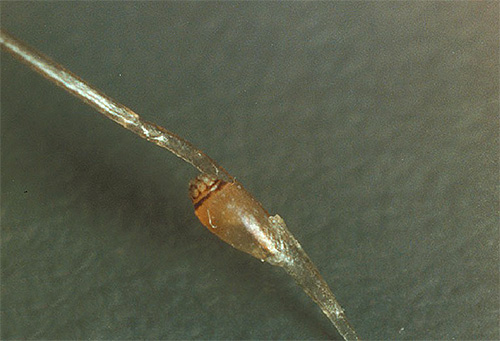 And in the following photo - nits of a dressing form of louses: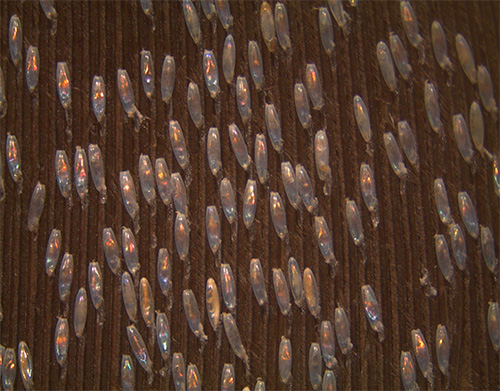 Lifestyle and optimal conditions for the existence of lice
Knowing everything about lice, it is easy enough to develop and apply measures for their destruction.
Lice are constantly present on the body of a person or his clothes. It is enough to regularly change clothes and wash clothes at high temperatures, and body lice will die even if infected.Lice and nits dress form can normally multiply, only if a person for months does not change clothes and do not wash. This is typical for tramps and the homeless.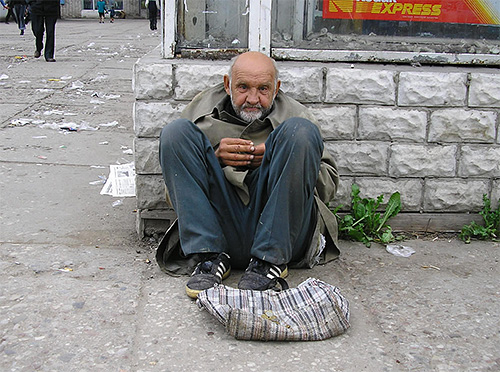 Pubic and head lice are highly dependent on hair length. On the hairless part of the body, they can not live at all. The best way to get rid of them is to shave the hair where the parasites were found. At the beginning of the last century, for the fight against lice, first of all, they shaved their heads, and therefore it was believed that the shaven man had suffered lice.
It is interesting

In recent years, scientists have seen a sharp reduction in the incidence of pubic lice worldwide. They associate this with the fashion of pubic shaving for both men and women. Lice cannot live on a hairless pubic, and even after sexual intercourse with an infected person, they are not fixed on a new victim.
Sometimes lice can infect completely unexpected places. For example, armpits and eyelashes. Knowing what lice and nits look like, it's easy to identify them here, but removing parasites from these places requires some effort: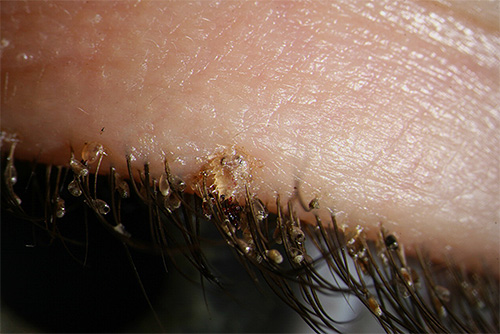 On a note

It is known that sometimes the pubic louse transmitted from mother to child can infect the baby's eyebrows.This should be considered in the prevention of lice in a big family.
Below are some more photos with lice and nits on the eyelashes: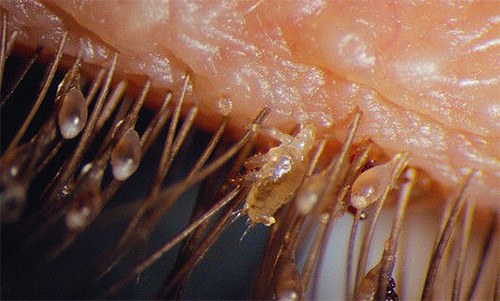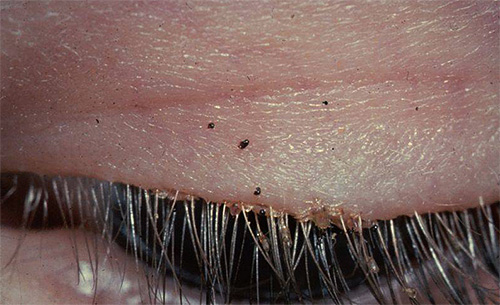 Lice feed several times a day: at a normal temperature, even a three-day hunger strike is fatal for them. At low temperatures, they can go hungry for up to a week.
Body lice are constantly moving from clothes to the human body. If the clothes even for a week are removed, most of the lice and their larvae die.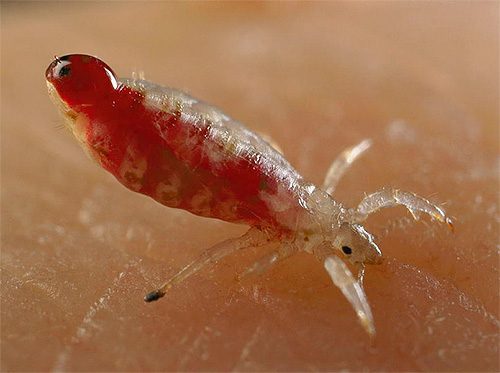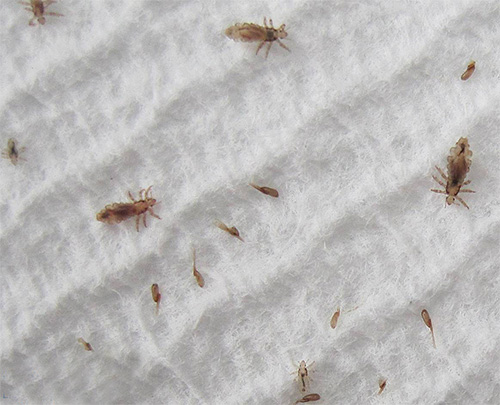 Lice die at temperatures below 0 ° C and above 45 ° C. With a gradual and not very low temperature, they can fall into a state of suspended animation and starve for several weeks.
Spreading lice between people
Lice are transmitted in most cases through direct physical contact of an infected person with a non-infected person. Today, preschool children who play and fight together are most often infected with lice.
Sometimes lice are transmitted with general use of headgear and hair care products. But such a transfer plays a much smaller role in the spread of lice.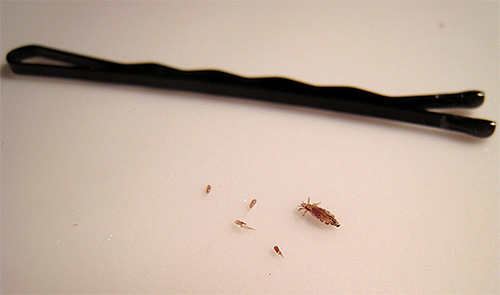 In general, lice can be infected in any public placeswhere close contact between clothing and people is possible. For example, in public transport or at various public events.
It is interesting

Lice for a long time can be in the water, and therefore sometimes the infection occurs in pools and natural waters. But such cases are extremely rare and they are not particularly to be feared.
In this case, lice are afraid of sharp smells. To protect against them, it is enough to spray hair with cologne or eucalyptus-scented perfume before going to the public, and insects are less likely to move to hair when they come into contact with children and adults.
On a note

Do not assume that head lice can occur only in homeless and slovenly people. The danger of these insects is that they are easily transmitted to children and adults, regardless of the level of culture, and they can be infected at home or even in an elite kindergarten. And before they multiply in quantities in which they begin to cause unpleasant sensations, they can have time to spread throughout the entire team or family.

But really a companion of unsanitary conditions - it is a clothes louse.
But if an infection has happened, you need to remove lice without delay. On the correct fight against these parasites, read the other articles on our website in the section "How to get rid of lice."
Interesting video: how lice infects and their potential danger to humans
Details about human lice and how to deal with them