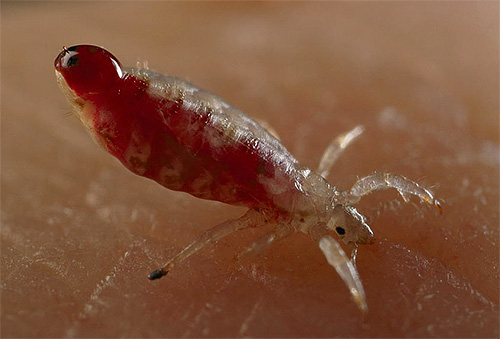 Generally speaking, lice can be disposed of either at special receivers operating under the control of a sanitary epidemiological station (SES), or at home. Given the large amount of pediculicides available on the market, it is much easier to get rid of lice and nits at home than to look for a special detention center in your city and go there for treatment.
However, before removing lice at home, you should be well aware of this whole process, to be able to choose an effective remedy for parasites and use it correctly. Practice shows that due to a misunderstanding of some nuances of lice control, the effectiveness of treatment is often reduced to nothing, even by a completely qualitative remedy.
Therefore, let's understand how to remove lice at home quickly, reliably and at the same time safe for health.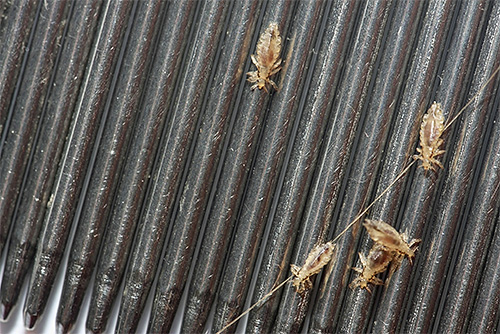 On a note

It is not recommended to remove lice in special detention facilities also because the main audience of these institutions is homeless and people living in unsanitary conditions. It is undesirable to visit such places not only because of their negative influence on the psyche in general (especially in children), but also because of the risk of contracting diseases there that are more serious than the lice themselves. Therefore, the removal of lice, for example, a child at home - almost the only option for parents who really care about their children.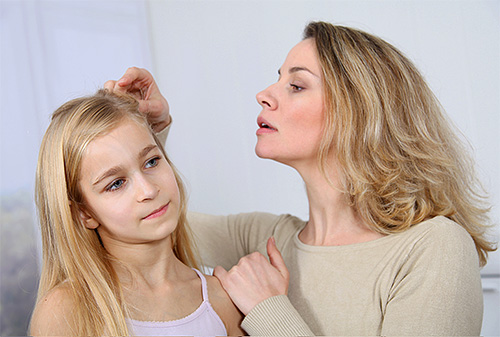 Feedback

"What a shock plunged me into finding a louse in a daughter is difficult to describe in words. Immediately thought: where to run, what to do. On the nose of the New Year: Christmas trees, matinees, children everywhere ... And what should we spend at home all the holiday? I was ready to ask for help anywhere! Well, my husband persuaded to read on the forums how to get lice at home. I used both lice shampoo and a comb at the same time, I managed to cope with the problem in 3 days. However, for the prevention, then three or four times I combed my hair. "

Victoria, Lubny
Ways to destroy adult lice and larvae
Home lice treatment can be done in several ways:
Shaving infected parts of the body with a head is the simplest and most universal approach.It requires exactly as much time to implement as needed to shave the head. This method does not require significant costs, it is safe, easy to implement, and during the spring and summer period it is possible to further improve the scalp, sunbathing under the sun. But it does not suit those who hesitate to walk with a shaved head, and in the case of pubic lice - with a shaved pubis.
On a note

Popular today haircut pubic hair "bikini" played a cruel joke with pubic lice - the parasite in the literal sense of the word was left without places to exist. Scientists parasitologists say a sharp decrease in the number of pubic lice in regions where this haircut is done especially often.
Removal of lice with special pediculicidal preparations - shampoos, sprays, creams, lotions. The advantages of this method of getting rid of lice are hair preservation and a quick effect. When properly implemented, lice often requires two sets of 2-3 hours each with an interval of 5-7 days (some drugs do not affect nits, so you have to wait until lice larvae hatch from them). Disadvantages - the risk of insecticide poisoning and the possibility of allergic reactions to them.
Combing lice with special combs.This is a fairly time-consuming process, time-consuming, but guaranteeing safety for health - it does not require the use of toxic substances.
To get rid of lice and nits at home is possible with the help of folk remedies, but they require special care and strict adherence to safety measures. For example, thoughtless use of kerosene or vinegar (anointed - and forgotten) can lead to incomparably more serious health consequences than the lice themselves.
On a note

Due to the large number of names that are used in relation to lice, it may seem that several dozen types of lice are dangerous for a person: "underwear", "bedding", "clothes", "clothes", "pubic", "headaches" and t .d In fact, only two types of lice parasitize on humans - human and pubic. The first, in turn, is divided into two forms - head and clothes.
To rid the child of lice in the warm season, the easiest way to shave him. If you do not want to remove the hair and the use of chemical insecticides and folk remedies is absolutely unacceptable - in this case you should use special combs for combing lice.If the baby does not have acute sensitivity to weak allergens, and the procedure for removing lice and nits I want to spend as quickly as possible, then pediculicides are used at home.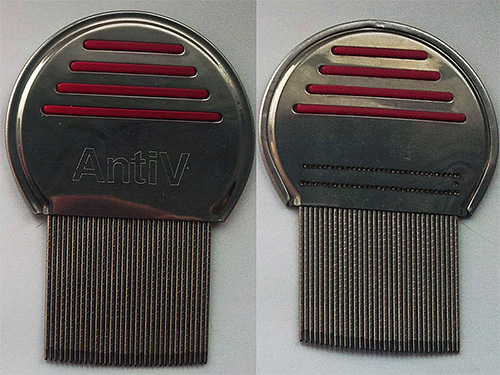 All the same is true for the treatment of pubic lice at home. But it is much easier to remove body lice - it is enough to soak the clothes infected by them for 24 hours in any insecticide or to wash at a temperature above 70 ° С.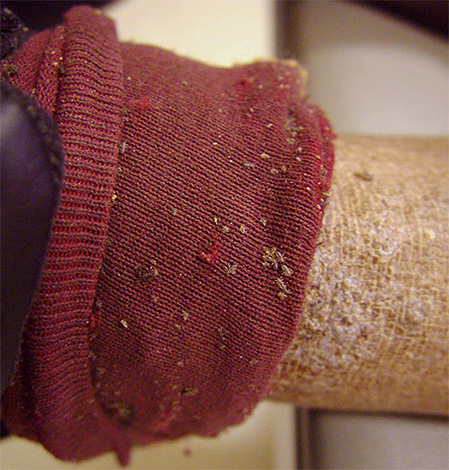 Important!

All preparations for getting rid of lice and nits should be used in strict accordance with the instructions for use. This will ensure the safety of the procedure and its effectiveness.
Feedback

"You can't imagine my horror when my daughter started complaining that her head was scratching, and I found lice in her. Hair below the waist, engaged in oriental dancing, can not be cut in any way. Even the proposal to shorten a bit was greeted with hostility. And the worst thing is that lice went on foot throughout the class. And after the first, seemingly successful attempt to eradicate the lousy family with a special shampoo, it reappeared after attending school. Often it is impossible to use chemicals, so our long hair was "combed" with a comb - painfully, long, but successfully. "

Anna, Rostov
Lice Treatments
Home remedies for lice at home are varied in price, and also differ in efficacy and safety.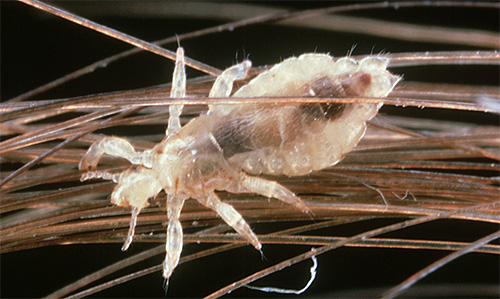 Below are the names of several drugs that can be quite quickly remove lice in children and adults, without fear of causing harm to health (it is only important to act according to the instructions).
Here
Spray, the active ingredient of which is dimethicone. By its chemical nature, this compound is a liquid silicone. The tool does not poison lice, and leads to blockage of their respiratory tract.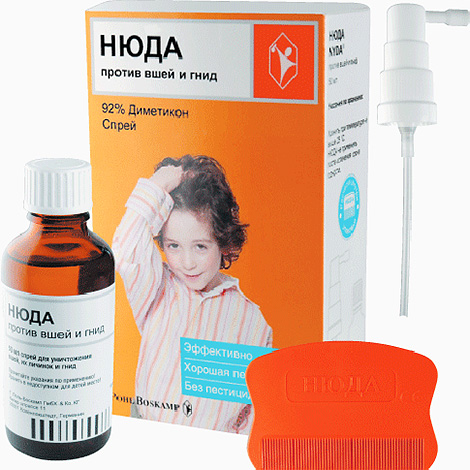 The Nidu tool allows you to remove lice at home without the risk of allergic reactions.
Medyfox
Medfox is a fairly powerful drug and is not recommended for the treatment of children.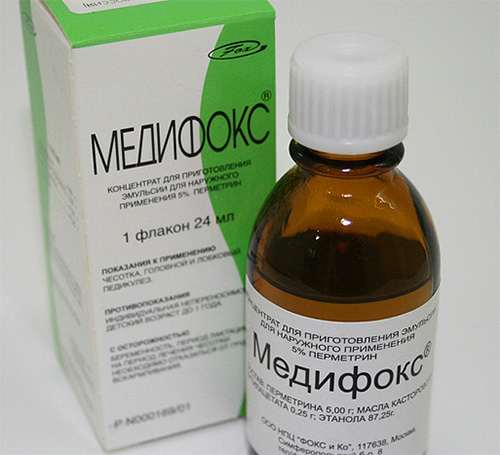 To get rid of lice and nits at home with the help of Medifox is possible only in adults.
Pedikulen Ultra
Pedikulen Ultra - a relatively inexpensive drug of domestic production, known for allowing not only lice destructionbut also nits.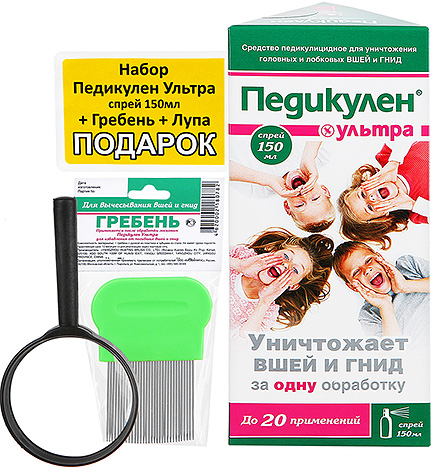 However, it may cause side effects.
Pair Plus
Pair Plus contains three powerful insecticides at once and allows cure lice at home quickly, and often for 1 reception.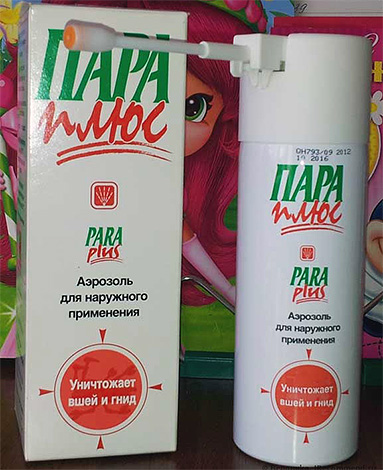 Antiv Comb
Antiv is one of the most licked combs in Russia. With it, you can get rid of parasites without risk to health for 5-6 days.
Comb is well proven for use in children and people with very long and thick hair.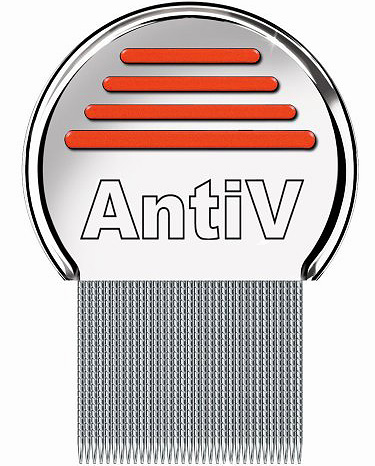 Combs for combing lice, as well as pediculicides, have many analogues, so consumers today are practically unlimited in choice. It is only important to select a tool taking into account the individual characteristics of the organism and not to violate the requirements for its use.
Feedback

"We generally picked up a long time than at home you can get lice. Daughter from school twice a year brought them. We started with kerosene, and finished with crests. After all, any home remedy for lice is necessarily harmful - either it burns the head, or hair, or an allergy from it. Especially dangerous kerosene - from it natural burns remain. The child has already begun to fear these procedures. And with a comb it is convenient, it takes several days to suffer, but nothing dangerous. "

Maria, Krivoy Rog
Folk remedies for the destruction of lice
Folk remedies for getting rid of lice are always available, but they also have many shortcomings. The most effective of them - kerosene and vinegar - are dangerous, because they can cause skin irritation and even serious burns, dry hair.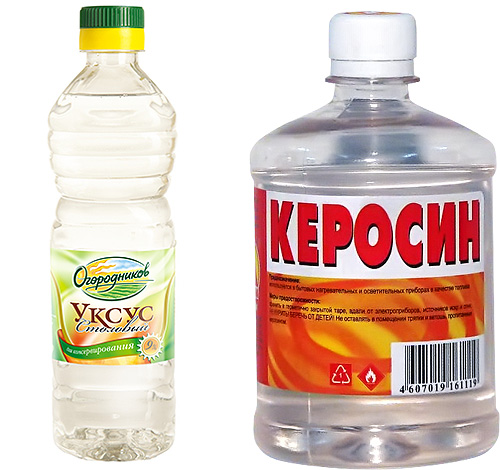 Chemerichnaya water and tar soap are less dangerous, but the first is sometimes difficult to buy, and the second has such a persistent smell that after treatment the head will smell of tar for several days. Finally, decoctions of various herbs and essential oils, safe and convenient to use, practically do not work against lice: they are designed to scare away insects, but it is impossible to scare away lice - they simply have no place to go with.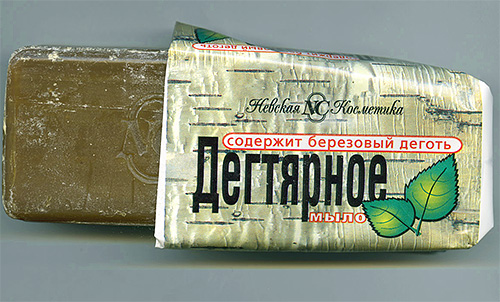 In general, such home remedies for lice are always inferior to modern pediculicides and are used today for the removal of parasites only because of their cheapness. However, if we consider that cases of kerosene ignition on a child's head, as well as the use of unlucky parents instead of table vinegar 9% vinegar improperly diluted with 70% acetic essence have repeatedly occurred, it becomes obvious that you shouldn't save on health.
Feedback

"Lice are a nightmare of my childhood.There were three times: after the pioneer camp, visiting the pool, school. Mom smeared my head with kerosene, he burned, his head itched, his eyes watering - horror! Now I had to face these cute insects in the heads of children. It's easier with the son - they shorn it shortly, sprayed it with a spray, that's all! I had to tinker with my daughter after the spray raise nits with curls, but tolerable. But when I discovered that the lice were inflamed, I, in addition to the treatment of my head, disinfected the entire apartment (especially the beds) and quartz treatment. While the bugs no longer appear. "

Yana, Kaliningrad
We destroy lice and their larvae
Lice are destroyed at home by using an insecticidal drug or a poisonous folk remedy, usually according to the following general scheme:
The drug is applied to the hair in the amounts indicated in the instructions. Creams are applied on wet hair, shampoos - on wet, sprays - on dry hair before they get wet.
The tool is aged on the head for a certain period (it is different for each preparation), preferably under a scarf, a plastic bag or a rubber cap to enhance the effect.
Then the drug is washed off the head, and the hair is washed with clean water and shampoo.
After these procedures, it is highly desirable to comb the hair with a thick comb, ideally with a comb for lice. So the dead and weakened parasites are removed from the head, as well as loose nits.
The photo shows how the treatment for lice at home is proceeding: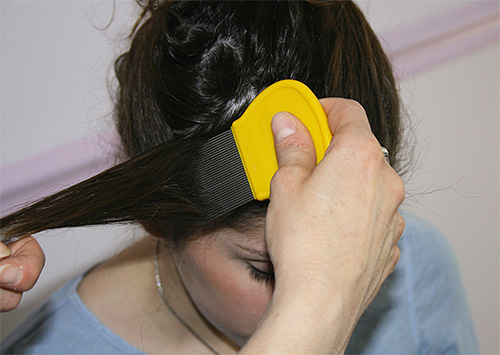 If you decide to get rid of lice only comb, you need every day to carefully comb the hair. To do this, they tail off on one side of the head, and then separate strands are pulled out from under the gum, which are neatly combed out. The procedure should be carried out over a clean sheet or bath, and all parasites combed out should be flushed down the drain.
How to get rid of nits
If the insecticide used does not have an ovicidal effect (that is, does not kill nits), the treatment must be repeated after a week.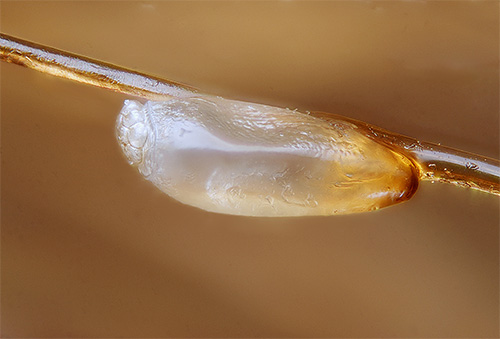 Such a measure is due to the fact that most pediculicidal agents, generally speaking, do not kill nits. Accordingly, from the nits, after a few days, young larvae hatch, capable of giving rise to a new population. The incubation period of lice eggs in normal conditions is 6-8 days, and a week after the first treatment of almost all of the deposited and surviving nits, the larvae will hatch.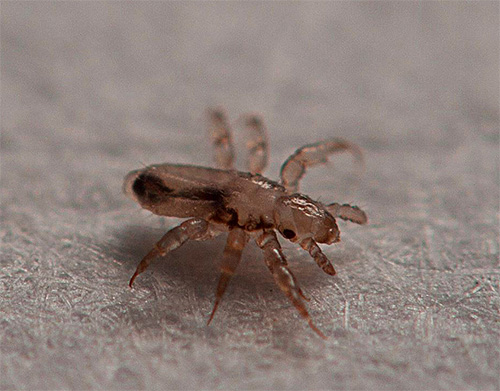 Almost always, instead of secondary treatment, combing the hair with a special lice comb is much more effective (for example, you can buy an AntiV comb). This approach allows you to completely get rid of lice and nits, even in advanced cases, when other options do not help.
On a note

Means such as kerosene, vinegar, alcohol, cranberry juice, Pediculen Ultra, and some others soften the sticky secretion with which nits are attached to the hair. Accordingly, after treatment with these agents, it is necessary to remove loose nits with a comb.
Feedback

"Girls, do not be lazy and for reliability, remove the lice again. I once small (9 and 12 years) brought lice at home itself. It seems to be etched, the shampoo was good, LysGuard, but after a couple of months everything started on a new one. It turned out that the lice died, and their eggs survived. I had to repeat everything two more times. So when you get rid of lice, poison twice a week. "

Irina, Semipalatinsk
When using the combs, part of the nits is combed out together with lice. Only hatched larvae are removed in parallel. Combing hair for 5-6 days provides almost complete disposal of nits at home.
Prevention of re-infections
Knowing how to get rid of lice and nits at home is not enough to protect yourself from repeated encounters with these parasites. Almost everywhere, where a person gets into close contact with others, he runs the risk of lice from their carriers. This is especially true for children who often violate the rules of hygiene and do not make a difference, with whom to play - with homeless peers or with those who are followed by parents.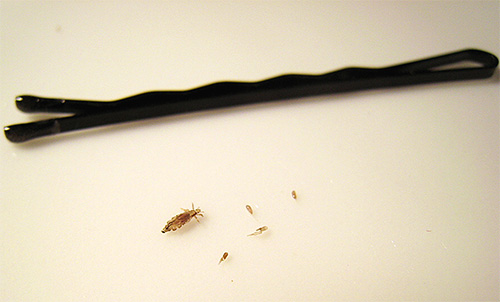 For reliable prevention of infection with lice should:
Avoid places where contact with the clothes or hair of another person is likely to occur - public transport, children's groups, rallies.
Do not use other people's hair care products.
Avoid casual sex.
If possible, do not communicate with the homeless.
Lice can not be infected by animals - they only infect humans. Therefore, adherence to the basic rules of hygiene will sufficiently protect a person from repeated encounters with these parasites.
Be healthy!
Useful video about effectively getting rid of lice and nits at home
An example of an infected child whose hair is simply infested with lice ...